Today I present a bag from the UK. It is a belt bag made of waxed cotton. This fabric gives the bag a certain water resistance and - I hope - gradually a subtle vintage look. The latter is a typical property of waxed fabrics, as these lighten their color at the kinks, which means that their appearance changes over time without being worn out.
What I like
First of all, I would like to highlight aspects that I perceive as positive. I especially like the whole thing, I mean the people and the story behind the products. It all seems very authentic and coherent to me. I just like it when you can feel the attention to detail and this is reflected in the products.
To get an idea of ​​the bag and what it can swallow, I took a few photos.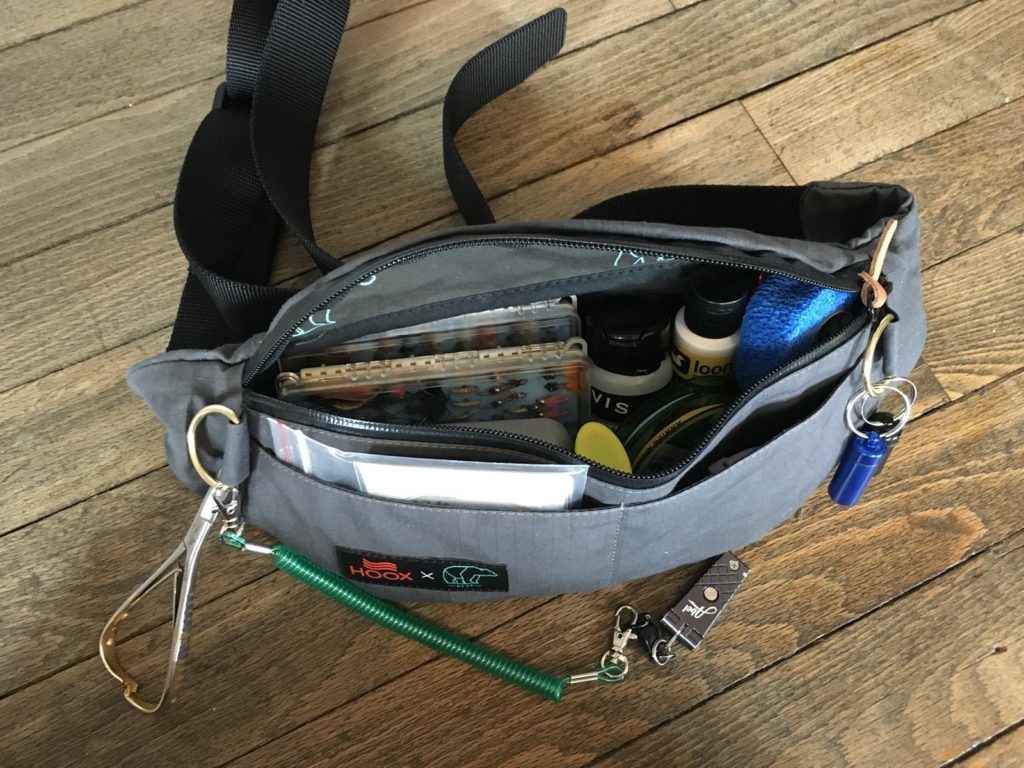 As you can see, everything fits into the bag.
It can also be closed easily.
What I don't like so much or what I would like for version 2.0
Ok, now to the negative aspects, even if I moan at a fairly high level.
I am missing an inside pocket for the papers!

 

That is actually my biggest criticism.

 

Why is there no inside pocket?
The two front pockets cannot be closed.

 

I would have liked a zipper for one of the two.

 

The other one could also stay open for quick access.

One could have sewn in one or two magnets from the inside to attach flies to dry from the outside.

Perhaps this is only the case with my bag but I am missing the label with the words "Designed for the Water.

 

Number xy.

 

Made by Amy ".

 

And even though I'm so crazy about such little things ;-(
There is another point that could perhaps be categorized as "sometimes the opposite of good". The belt buckle is meant here:
From a purely qualitative point of view, I would say it was really clogged in here. According to the imprint, the lock withstands tensile forces of up to 12 kN, which means that a medium-sized car could easily be hung on it! So far so good, but this impressive stability unfortunately comes at the cost of weight. Sluggish 150g so one and a half bars of chocolate that you can carry around with you. That is 50% more than my nymph box weighs.
Conclusion: grade 2
I would definitely consider the bag to be one of the most beautiful bags I've ever used for fly fishing. The bag is functional, not too big or small and serves its purpose. With my purchase I support a small company that actually manufactures in Europe instead of one of the "big ones" whose bags are sewn by small children's hands somewhere in Bangladesh and are then sold here for a multiple of the purchase price.
I will continue to use the bag until my search for the perfect bag ends.
On the Bearflyfish homepage there are some other nice things for us fly fishermen. If you want to go straight to the bag, you can simply follow this link: Bear X Hoox - Bum bag